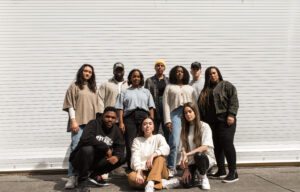 "Never Lost"
Tribl featuring Joe L. Barnes, Lizzie Morgan & Melvin Crispell III
Tribl Music (album release date: November 11, 2021)
www.tribl.com
By Robert M. Marovich
If you follow gospel music, you are aware of the rise of worship collectives like Elevation Worship, Nashville Life Music, and the recent Grammy Award-winning Maverick City Music.
Worship collectives, which are often multicultural in composition, possess a style that falls somewhere between CCM and gospel. Sometimes this blend, designed to appeal to an increasingly multicultural megachurch environment, lands the groups' music on the CCM and gospel charts at the same time.
Tribl is a worship collective in the vein of Maverick City Music, labelmates on the Chicago-based Tribl Music label. "Never Lost," the first single from Tribl Nights Atlanta, has that hypnotic, atmospheric sensibility that lights up live worship experiences and stimulates congregational participation. Fading in and fading out, the radio edit of the single declares that Jesus has never lost a battle to anyone or anything, no matter how large. To hammer home this point, the group repeats a line from Zechariah 4: "Who are you, great mountain?"
One of the artists leading "Never Lost" is Melvin Crispell III. I met his father, Melvin Crispell Jr., at a GMWA convention years ago before he passed away in 2014. The apple doesn't fall far from the tree in terms of music talent.
Written by : Bob Marovich
Bob Marovich is a gospel music historian, author, and radio host. Founder of Journal of Gospel Music blog (formally The Black Gospel Blog) and producer of the Gospel Memories Radio Show.