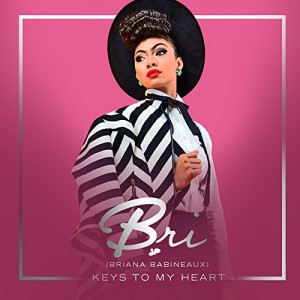 Bri (Briana Babineaux)
Keys to My Heart
Tyscot Records / Marquis Boone Enterprises
(release date: March 25, 2016)
www.tyscot.com
By Bob Marovich
You probably know Briana Babineaux (Bri), the pompadour-wearing fashionista, from her Instagram singing segments that racked up such significant interest among the hoi polloi that she garnered attention from Marquis Boone, the man who transformed Casey J from schoolteacher to Billboard charting artist.
Bri's twelve-track debut album with Boone and Tyscot, Keys to My Heart, answers the growing "Bri Nation's" encore cry and offers further proof of the singer's, and soon to be college graduate's, talent. The album has a hybrid production sound because while it was recorded in an Atlanta studio, a small invite-only group of family and friends were on hand at the studio to be a polite but supportive live audience.
The opening song, "Heaven Must Be Something Like This," is full-bodied and propulsive. It expresses wonder in glimpsing heaven through actions on earth. Beyond that selection and the energetic "Lord of All," the album tends to favor chill and understated finger-popping acoustic soul. "Grace," which Bri wrote with friend Bryan Andrew Wilson, is a good example of this unassuming but nevertheless eager expression of gratitude to the Most High.
Unassuming is a good thing, because listening to the singer is what's most important. And thanks to inspired production from Korey Bowie, you hear a youthful, passionate, pleading, but never over-sized voice. Bri conjures other young female worship leaders in her vocal flow, introspection, and in continually seeking connection and communion with God.
Likewise, the song lyrics express thanksgiving for a personal, intimate relationship with the Lord, such that a recurring theme on the album is discipleship. On "I'll Be the One," for example, Bri steps up confidently to do the Lord's bidding. "I won't let go. . . .'til you change my name," Bri asserts on "Jacob's Song."
"Lord of All" and extended selections such as "Love You Forever" most directly demonstrate Bri's fealty to the Tasha Cobbs-Casey J worship leader go-with-the-spirit improvisation, which suggests that her follow-up album ought to be a live church recording.
I am befuddled by the hype that Bri is the "Justin Bieber of Gospel."  I wouldn't wish that comparison on friend or foe. The Janelle Monae of Gospel? Ah, now that's better.
Four of Five Stars
Picks: "I'll Be the One," "Grace."