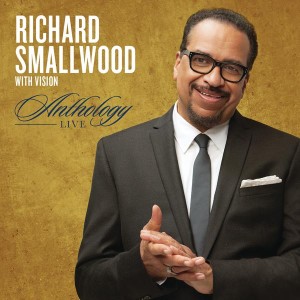 By Bob Marovich for the Journal of Gospel Music
If Richard Smallwood had his druthers, the autobiography he is writing would have been released simultaneously with his new album, the two-CD Anthology Live.
The album, recorded with his group, Vision, is essentially the "musical soundtrack" to his autobiography.  But the music came first, and Anthology Live (RCA Inspiration) hits stores June 29.
The maestro, whose song canon is among the finest in modern sacred music, talked with the Journal of Gospel Music about the new release, his and Vision's first CD in four years.
The genesis of Anthology Live, Smallwood explained, came out of the vicissitudes of putting together a performance set list that would satisfy his audience.
"It started as me trying to put a medley together for our performances because I wasn't able to do all of the songs people wanted to hear, due to the constraints of time. I put together one medley and then realized I left a lot of  songs out, so I put together a 'Smallwood Singers' medley. When I finished that, I thought, 'Why don't I do a recording and trace my musical history, starting with my musical influences?"
Three influences who receive the most attention on Anthology Live are towering gospel personalities Roberta Martin, Edwin Hawkins, and Andrae Crouch.
Richard Smallwood on Roberta Martin…
"The Roberta Martin Singers were a huge, huge influence. My mother first took me to see Roberta Martin when I was six or seven. Then, when they would come to DC—I was about ten at that time—they would come to Bibleway and run revivals Monday through Friday. Sometimes I would go to see them every night. Their approach to harmony and phrasing had a tremendous effect on me. Little Lucy Smith was probably my biggest gospel pianistic influence. I tried to play like her. Every little riff she did, I would go home and try to copy her. I could not really talk about my influences without talking about the Roberta Martin Singers."
Richard Smallwood on Edwin Hawkins…
"He was the person who inspired me to write. When I heard how he incorporated jazz chords and harmonies that weren't being heard in the church then, it sparked something in me. I decided that I wanted to write like him. I met him in about my sophomore year at Howard University, and after we met, we became friends. He was like my big brother. He was my mentor and my encouragement through the years."
Richard Smallwood on Andrae Crouch…
"Andrae', my God! What can I say? Andrae' is one of history's greatest gospel writers—writers, period. I didn't meet Andrae' until much, much later, but I had every recording that I could find of his. I did a song on my very first album, "Call the Lord," which was based almost verbatim on his "Jesus Is Lord!" The bass, the beat, the rhythm, the feel—Andrae' was definitely an influence.  I wanted to honor him on this recording because of who he was and how he contributed to gospel music. He was a friend, as well."
Of all the songs on Anthology Live, Smallwood believes his favorite would have to be "Hebrews 11."
"The wording is so beautifully written, especially in the King James Version," he said.  "When I first thought about setting Hebrews 11 to music, I wanted it to sound like a Biblical movie. I grew up on The Ten Commandments, those great Biblical movies, and I wanted the song to convey that kind of thing.  It certainly has my little classical element in it."
Fans who have heard the album cite their favorites as "Hebrews 11" and the first single, "Same God." "That was the way it was the night we recorded it, too," Smallwood reflected. "Those two songs were the ones that the people really gravitated to and remembered."
Notwithstanding the musical gravitas of Anthology Live, Richard Smallwood wants listeners to come away encouraged.  "I always want my music to make a positive difference in people's lives. Whatever they are dealing with—financial issues, health issues, personal issues—I hope that something is conveyed to them through the recording that will help them to believe they can make it, through whatever obstacle they may be facing."
As for the autobiography? "I have been feverishly working on it for the past two years and I'm hoping to finish it up this year and get that out."