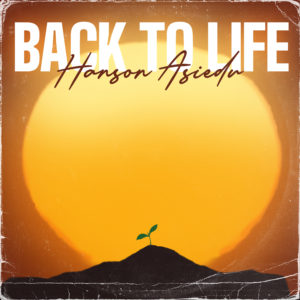 Hanson Asiedu
Back to Life (EP)
Release date: October 18, 2020
www.hansonasiedu.com
By Robert M. Marovich
Formerly known as Kase Sounds, Hanson Asiedu is a Ghanian living in London whose responsibilities have included postman and police officer in addition to Christian singer-songwriter.
His new EP, Back to Life, offers four songs that share sonic similarity but offer a variety of messages.
Asiedu's style, like many European gospel artists, is introspective and gentle, a Jonathan McReynolds feel with the acoustic guitar front and center. His voice is equally calming, sometimes fragile, but unremittingly pure, with little ornamentation.
The mid-tempo "Holy Ghost Pour" is tuneful and bright, with background vocalists answering Asiedu's lead vocals. He accelerates the tempo on "Never Seen" a buoyant and poppish reflection on the wonder of God that, from history to today, never ceases to amaze. It's the EP's top track.
With strings setting a somber mood, "One of Those Days" presents those times when life itself seems unfulfilling, tedious, and discouraging. A 180-degree turn in message is "Joy," a gushing of enthusiasm over the Lord that features fellow Londoner Derick Dickson. A choir's beautifully melodic chanting of "Kyrie" appears at the end.
The production of Back to Life is crisp and the musicianship tight but understated, in keeping with the EP's intimate vibe.
Moving to the UK at age eight, Hanson Asiedu's earliest exposure to gospel music was the work of Ron Kenoly. In addition to his personal music ministry,  he serves as worship leader at My Church London.
Three of Five Stars
Pick: "Never Seen"