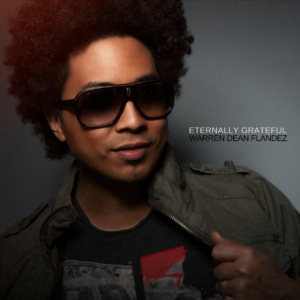 By Bob Marovich
No doubt about it, Canada has a thriving gospel music community.
Some artists, such as Londa Larmond, the Quebec Celebration Gospel Choir, and the Sojourners quartet, have somewhat broken through into the U.S. gospel music market.
I say somewhat, because in comparison to the long litany of Canadian pop artists who conquered the U.S. market and went on to become global sensations, gospel singers from Canada have yet to make their mark outside of their country.
Warren Dean Flandez wants to change that.
Although he has been active in music for many years, the Vancouver-based artist released his first full-length gospel album, Eternally Grateful, last year. The project contains the sum total of his debut Christian music EP, 2015's What the World Needs Now, plus some new recordings.
Eternally Grateful was nominated for a JUNO Award (Canada's version of the GRAMMY Awards) under the Contemporary Christian/Gospel Album of the Year category.
Flandez told the Journal of Gospel Music that since much of his fan base knew him as a secular singer, he deliberately issued What the World Needs Now under a pseudonym—his initials, WDF. "We wanted to test the market out in the gospel/Christian world first." JGM gave the EP five stars.
Notwithstanding his secular music success, Warren Dean Flandez grew up singing gospel music in the church. He also joined the Vancouver Outreach Community Soul Gospel Choir, whose music director, Checo Tohomaso, was a former background vocalist for Marvin Gaye as well as Lionel Richie and the Commodores. Tohomaso became Flandez's informal mentor.
"The church and gospel music really saved me," Flandez reflected. "As children, as teenagers, your life can go in many different directions that aren't the greatest. I stayed out of trouble because I was so focused and so passionate about singing with the choir and singing gospel music."
Professionally, however, Flandez went pop. He selected for his manager Mitchell Davis, son of music industry veteran Clive Davis. Flandez's debut album, Vintage Love, was rated #2 on the Toronto Star's Top 10 R&B Albums of 2011.
But the pop music world had its share of ups and downs. "It wasn't quite fulfilling me spiritually in the way I needed to be fulfilled," Flandez said. "Faith and Christian music and gospel–I always had that to go home to."
So he went home and started writing the songs that ended up on Eternally Grateful.
"It was the first time I wasn't tied to a label or any type of deal," he said. "I had the freedom to do a project I wanted to do. My goal was to create music with purpose and to spread the message."
Additionally, Flandez and his wife founded Top Line Vocal Collective, which he calls "fifty of Vancouver's most celebrated voices in one choir. They go out into the community and perform as volunteers to raise money for various charities." It is a non-faith based, non-denominational organization, but since Flandez's influence is gospel, the choir sings a lot of gospel.
The Top Line Vocal Collective is featured on Eternally Grateful's opening song, "Joy." The melding of praise lyrics with an urban contemporary gospel foundation and Pentecostal "soul claps" has garnered the most industry attention thus far, and earned him a JUNO nomination.
"It's the highest honor in Canadian music," Flandez said, "so just to be nominated is like, 'I'm done!' To win would be amazing, but it's not about that. It's that, as an artist, sometimes you need to feel validated that what you are doing is right. I'm so grateful for the doors that it has opened."
Flandez is walking through those doors to assemble his North American team. The Nashville trip was one of the first steps in this process. "I want to find someone to really get behind the project and appreciate it for what its potential could be."
He added: "The future is uncertain, as it always is, but I know I was meant to do this, so we'll see what happens. People seemed to really love the music in Nashville.  One executive referred to me as the 'Christian Bruno Mars.' I thought about it, and yeah, I guess that's right!"
For more information on Warren Dean Flandez, visit www.wdfworld.com.
Written by : Bob Marovich
Bob Marovich is a gospel music historian, author, and radio host. Founder of Journal of Gospel Music blog (formally The Black Gospel Blog) and producer of the Gospel Memories Radio Show.