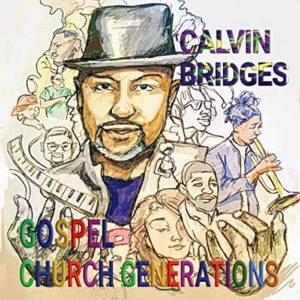 Calvin Bridges
Gospel Church Generations
PNEUMA / Spirit Recordings, Inc.
(release date: October 8, 2019)
By Bob Marovich
Despite its unassuming packaging, Calvin Bridges' Gospel Church Generations offers plenty of songs, old and new, for choir directors and worship leaders to teach their groups.
Bridges, a singer, songwriter, director, and teacher, is perhaps best known for writing Albertina Walker's career comeback song, "I Can Go to God in Prayer." He's written many other songs, too, and has fronted several groups. His new solo album, Gospel Church Generations, recorded live at Chicago's historic Greater Harvest Baptist Church (Elder Eric Thomas, Pastor), finds Bridges supported by the Greater Harvest Choir and the Chicago Metro Mass Choir of the Gospel Music Workshop of America.
True to its title, Gospel Church Generations traverses decades of gospel tastes but the two constants are that all the songs are from Bridges' pen and they all have that the churchy Chicago choir sound. The current single, "Breathe," is a worship ballad that responds to our day of "turmoil and distress" with a prayer for God to breathe protective blessings on His people. Notable are the choir's breathtakingly beautiful harmonies, the arrangement's dynamic ebbs and flows, and the just-right key change.
Traditional church rousers are "I'm Not Tired Yet (Running for Jesus)," Bridges' riff on the Caravans' classic and led by Ann Bridges. "If You Understood My Past" is a healthy dose of evangelism led with evangelistic zeal by Tanya Ray. This Bridges composition was originally recorded by Pastor Mitty Collier on her 2011 album, I Owe It All to the Word.
The "Biscuits and Gravy Medley" is an eight-plus minute handclapper that includes "I Can Go to God in Prayer" and Ann Bridges reprising her lead vocal on the original "Come On In This House." "Spread the Word," which closes the medley, was originally performed by Albertina Walker at the 26th Grammy telecast where Bridges was singing with Keith Pringle and the Pentecostals of Los Angeles.
"Steal Away" (the choir version) steals the show. Not the spiritual, this Bridges original has a gently-loping tempo and instantly captivating chorus. I can imagine this song being covered by groups and small choirs for quite some time. It's one of those songs that sounds like you've heard it before, but it's brand new.
Gospel Church Generations is a delight for all generations from a gospel artist who transcends generations.
To learn more about Calvin Bridges, check out my video interview.
Five of Five Stars
Picks: "Steal Away," "I'm Not Tired Yet (Running for Jesus)," "If You Understood My Past"
Written by : Bob Marovich
Bob Marovich is a gospel music historian, author, and radio host. Founder of Journal of Gospel Music blog (formally The Black Gospel Blog) and producer of the Gospel Memories Radio Show.