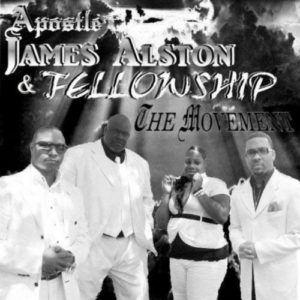 Apostle James Alston & Fellowship
The Movement
Independent (release date: August 10, 2013)
By Bob Marovich
Wooden church songs about faith, hope, and gratitude are at the heart of The Movement, the debut release by Portsmouth, Virginia's Apostle James Alston & Fellowship.
Although the name of the group suggests a male-led small choir, Apostle James Alston & Fellowship sounds to my ears like a mixed voice quartet. Shanita Bell is the lone female voice in the otherwise male group, with Apostle Alston delivering the meaty lead vocals that evoke the southern soul quartet tradition.
How the group handles its two quick tempo pieces are also evocative of a gospel quartet. "He'll Fix It" is a pulpit-honed reminder of God's ability to make all things right, including poor health and finances. As on the other drive-tempo song, "Put Your Trust," "He'll Fix It" kicks into hyper drive on the vamp, as Alston trades leads with other group members.
But in the end, it's Alston's passion that sells the songs and drives the group, and what drives him is the "anointing of the Lord," as he describes on "Thank You." Here, Alston intimates that the poor health he and the group sang about on "He'll Fix It" was his own frightening episode of heart arrhythmia. But God got him through and he is grateful.
The single, "On My Way," is a joyful mid-tempo anticipation of entering the hereafter and experiencing eternal joy. If Mozart portrayed death as a terrible tragedy and Faure as a peaceful transition, gospel music dances its way to the pearly gates—at least when sung from the point of view of the deceased (if saved). Songs about departed mothers and fathers tend to be more sentimental because they are rendered from the point of view of those left behind.
Appropriately, The Movement concludes with "Come to Jesus," the go-to altar call anthem. Alston improvises on the original words and melody as he invites listeners to come forward and give their lives to Jesus. Fellowship responds to his call like a harmonizing deacon board.
Although the packaging is basic and there's more synth than I typically prefer on a gospel album, The Movement is long on passion and earnestness. But the group has enhanced its style since then, and proof positive was their receiving a Rhythm of Gospel Award this summer for Best Mixed Group of the Year.
Three of Five Stars
Picks: "Put Your Trust," "He'll Fix It"