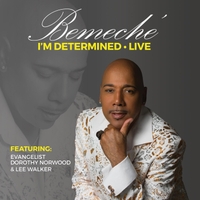 Bemeche'
I'm Determined – Live
BGMN Records
www.Bemeche.com
By Bob Marovich
It's rare these days for gospel artists to give over most of their full album to old-time songs, but that's what Bemeche' Hicks has done on his I'm Determined – Live.
The Virginia-based music minister even invited a bonafide church wrecker to assist with his debut CD. None other than Evangelist Dorothy Norwood joins Bemeche' on the Roberta Martin Singers theme song, "Only a Look." It's a treat to hear Norwood sing and squall her way through a classic that she may not have recorded before.
The Storyteller then moves into "Searching," from the Dorothy Norwood Singers songbook. She informs the live recording audience that she and her group sang the song 54 years ago. Gazing into the sea of faces in front of her, she notes: "Some of you not even 54!"
Accompanied only by piano, Bemeche' does a fine job soloing on the Doris Akers chestnut, "Lead Me, Guide Me." Having his six-member background group, Kingdom Royalty, as a second voice, however, would have made the selection even stronger.
The title track, which was a JGM Pick of the Week on May 14, is a 1980s gospel choir style workout that sends the congregation into an early and fervent praise break.
Lee Walker contributes to the album's contemporary gospel component with two songs of his own: "Arise" and "But God." The tracks are good but it's understandably difficult to follow traditional selections like "Lead Me" and "Searching."
Bemeche' Hicks is minister of music at Mount Zion 2nd Baptist Church in Greenbay, Virginia; and at First Baptist Church in Victoria, Virginia. I hope he continues to release albums of traditional fare because, as Norwood herself has said, when you really need comfort, the traditional songs are where you find it.
Four of Five Stars
Pick: "I'm Determined," "Searching."
Written by : Bob Marovich
Bob Marovich is a gospel music historian, author, and radio host. Founder of Journal of Gospel Music blog (formally The Black Gospel Blog) and producer of the Gospel Memories Radio Show.