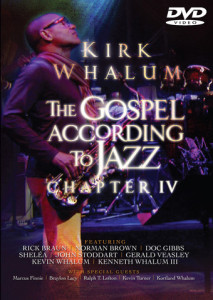 Kirk Whalum
The Gospel According to Jazz, Chapter IV – Film/DVD
Running time: 148 minutes
Rendezvous Music (release date: May 19, 2015)
www.kirkwhalum.com
By Bob Marovich
Whether you did or did not purchase the CD version of Kirk Whalum's The Gospel According to Jazz, Chapter IV when it was released this past March, you will enjoy the DVD version of the concert, set for release this Tuesday.
The DVD captures the Chapter IV concert at the Christian Cultural Center in Brooklyn, New York.  Live performance segments are interspersed with conversations with Whalum on a variety of subjects, from being a musician to the spirit of improvisation.
While gospel and jazz are often cited as first cousins, especially when it comes to jazz's 1930s incarnation as swing, the subgenre called gospel jazz has been, for me at least, something of an enigma. But I understand what Kirk Whalum is doing. It's not gospel jazz per se.  Like the work of John Coltrane, which one can hear in Whalum's moodiest playing, the spirituality is implicit in the music. Not at all the processed smooth jazz of commercial radio, Whalum's improvisational work and his remarkable band are the real deal.
The finest instrumental moments, such as the opening "God's Radical Welcome" and "Just As I Am," capture this spiritual conversation in music. So does "Triage," arguably the DVD's finest and most complex combo work.
Loss looms large throughout the program. The accomplishments of the late Wayman Tisdale, George Duke, and Nelson Mandela are celebrated in music and reminiscences. Whalum wrote and performs "There" as a tribute to Duke, who was present on the other three Gospel According to Jazz chapters.
Outside of Whalum's magic on tenor and soprano sax (he even plays flute on the delicately fragrant "This is the Day") and the fabulous piano work of John Stoddart is singer Shelea's gorgeous and amazing interpretation of "Sometimes I Feel Like a Motherless Child." It is the best moment of the DVD.
The smoky cinematography is brilliant and will look great on the big screen. The interstitials are ideal viewing for high school and college jazz students. With the exception of running a tad long for society's short attention spans, The Gospel According to Jazz, Chapter IV is captivating listening and viewing.
Four of Five Stars
Stay tuned for JGM's interview with Kirk Whalum, to be posted later this week.