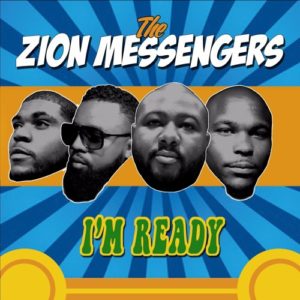 The Zion Messengers
I'm Ready
1500 GOSPEL (release date: September 1, 2015)
By Bob Marovich
If you've heard Snoop Dogg's gospel album, Bible of Love, you've heard the Zion Messengers. They are the young quartet from Los Angeles that sings on Bible of Love's "Going Home."
But you don't get to appear on Bible of Love without gospel music experience. Indeed, the Zion Messengers released their own album, I'm Ready, back in 2015. The quartet sounds just as confident on this earlier album as they do on Snoop Dogg's.
Although endeavoring to make I'm Ready as contemporary as possible, the Zion Messengers' old school proclivities shine forth on the album's several drive-tempo vamps, and there are more here than on any quartet project I've reviewed in recent years. Even the mid-tempo "Name of Jesus" revs up gradually into a raucous and repetitive vamp.
Additionally, the album's lyrics fall squarely within the quartet tradition of thanking God, praising God, and asking God for help to make it through. One exception is the opener, "Move," during which the Zion Messengers invite the spirit into the room like a megachurch worship team. And there's also the nod to discipleship; you have to love the honesty on "More Like You," when the lead sings "I love Jordan, I love Kobe, but I want to be like you!"
Finally, the quartet feeds on the traditional hard singing and shouting of their inspirations, such as the Mighty Clouds of Joy and the Highway QCs. On the bluesy "Let God Do It," the Zion Messengers are joined in this effort by church squaller Geanah Craig Kirkwood. The group members also demonstrate their fealty to traditional music in songs such as the doo-woppy "Soldier," which borrows its melody from "Crying in the Chapel;" and "Pressin'," which accentuates its focus on moving forward by literally moving forward.
Since R&B and gospel singer Faith Evans has a more flexible than fiery voice, her cameo appearance is ideal on the modern "Never Let You Go."
Sometimes the harmonies are so tight and high they sound synthesized, but that's an industry standard and not explicitly a Zion Messengers thing. But I, for one, am an advocate of adding back, or at least emphasizing, the bass register to give gospel quartet harmonies a richer resonance.
Nevertheless, I'm Ready is a fine introduction to the Zion Messengers, who strike an excellent balance between contemporary and traditional quartet styles.
Four of Five Stars
Picks: "Soldier," "Name of Jesus," "Never Let You Go"
Written by : Bob Marovich
Bob Marovich is a gospel music historian, author, and radio host. Founder of Journal of Gospel Music blog (formally The Black Gospel Blog) and producer of the Gospel Memories Radio Show.