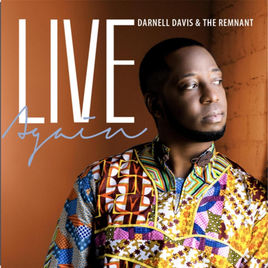 Darnell Davis & the Remnant
Live Again
D Davis Entertainment / MVP Productions
(release date: August 11, 2017)
www.darnelldavismusic.com
By Bob Marovich
Those who know Darnell Davis's story—those who don't can read it here—will understand why the overarching theme of his new album with the Remnants, Live Again, is spiritual survival.
From the opening selection, "I Am a Miracle," to the devil's dirty dealings in "No You Can't Have It," to the churchy call-and-response of "I'm Still Here," the lyrics speak of the battle one wages against the insistent and persistent force of evil.
The title's double meaning helps hammer home this theme. The first reference is about the album's live recording environment, and the second reference, explored on the title track, is about the freedom and subsequent healing Davis experienced when God broke his physical and spiritual chains. Davis sings about being a miracle, a survivor, and eternally grateful to God because, according to one of the songs, "He Did It."
Nearly all of the songs on Live Again are original compositions.  One that is not, Walter and Edwin Hawkins's meditative "Jesus I Love You," gives Remnant something to sink their chops into. They do just that in an extended opening segment that precedes Ron Poindexter's passionate lead vocals.
The storied singer San Franklin-Jackson cameos on "Trust God," a ballad of faith and encouragement that depicts the Almighty as the kind, loving father of the New Testament, one who wants only the best for his people. Through this we can see how Davis's spiritual salvation was a given, and he expresses his gratitude on the lovingly rendered "I Need You."
One of the album's most brilliant moments is saved for last. A refashioning of the hymn "Great is Thy Faithfulness," that old compulsory for any gospel singer worth his/her muster, features Davis's singing punctuated by Remnant's confident harmonies, all to Michael Bereal's marvelous piano accompaniment. Bereal begins in a churchy vibe but ends with impressive jazz motives.
The members of Remnant, Darnell Davis's vocal choir, deserve equal applause for their tight harmonies and excellent use of dynamics, which add vibrant color to the melodies.  Live Again is a structurally smart choir album with plenty of songs to try with one's church choir.
Four of Five Stars
Picks: "I'm Still Here," "Great is Thy Faithfulness."
Written by : Bob Marovich
Bob Marovich is a gospel music historian, author, and radio host. Founder of Journal of Gospel Music blog (formally The Black Gospel Blog) and producer of the Gospel Memories Radio Show.